Greek coffee in
a bronze briki

Small carafe of raki

Titlehough the café is small, we offer a rich and diverse menu, quality-products at reasonable prices. Breakfast, a variety of coffees, fresh fruit juice, Greek yogurt with honey, ice cream, mixed drinks, beer and wine.
Some specititleies of which we are particularly proud include:
Greek coffee, prepared the traditional way in a bronze briki

Artesianal raki imported from Crete can be served alone or mixed with Serifos honey and called rakomelo

Mixed plates called "pikilia" include a variety of tastes (dolmades, cheeses, potato salad, seafood, etc.)

Our homemade desserts, in particular our famous chocolate cake, nearly always sell out by the end of the night
We had the idea to embellish our menu with poems. Your can find them again in a PDF file.
Download the menu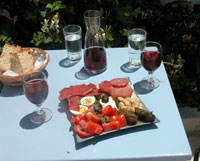 One of our "pikilia"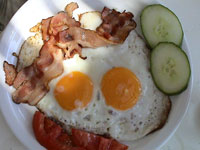 Breakfast